7 Reasons Why Businesses Need Tech Support and Cloud IT Services 
There are several reasons why businesses may need professional IT management, cloud IT services, cyber security support, computer networking, IT consulting, and tech support. If you live in King of Prussia, Philadelphia, North Philadelphia, Hamilton, NJ, Doylestown, Trenton, contact Alpha IT Solutions.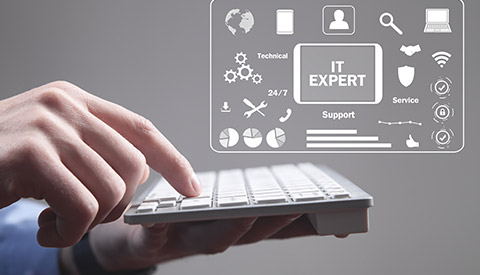 Here are some of the key reasons: 
Expertise and knowledge: IT professionals possess specialized knowledge and expertise in managing and maintaining various aspects of technology infrastructure. They stay updated with the latest trends, best practices, and emerging technologies, which allows them to provide effective solutions and support.

 

Efficient operations: Professional IT management ensures efficient operations of technology systems and networks. They can optimize IT resources, streamline processes, and implement automation, resulting in improved productivity, reduced downtime, and enhanced overall performance.

 

Scalability and flexibility: Cloud IT services enable businesses to scale their infrastructure based on their needs. IT professionals can help organizations leverage cloud computing resources, such as storage, software, and platforms, to meet their requirements while reducing costs and increasing flexibility.

 

Cybersecurity protection: Cybersecurity support is crucial in today's digital landscape, where cyber threats and attacks are prevalent. IT professionals can implement robust security measures, monitor networks for vulnerabilities, and respond swiftly to security incidents to protect sensitive data and ensure compliance with regulations.

 

Network infrastructure setup and maintenance: Computer networking services help in designing, implementing, and maintaining reliable network infrastructure. This includes setting up routers, switches, firewalls, and other networking components to ensure secure and efficient communication within an organization.

 

Strategic guidance: IT consultants provide valuable insights and strategic guidance to help businesses align their technology investments with their overall goals and objectives. They can assess existing IT infrastructure, recommend improvements, and identify opportunities for innovation and growth.

 

Technical support: Tech support is essential for troubleshooting technical issues, resolving software or hardware problems, and providing assistance to end-users. IT professionals can offer timely support, whether remotely or on-site, to ensure minimal disruptions and maximize user productivity.

 
Overall, professional IT management, cloud IT services, cyber security support, computer networking, IT consulting, and tech support play a vital role in enabling businesses and individuals to leverage technology effectively, ensure data security, streamline operations, and overcome technical challenges. Call us without any delay.